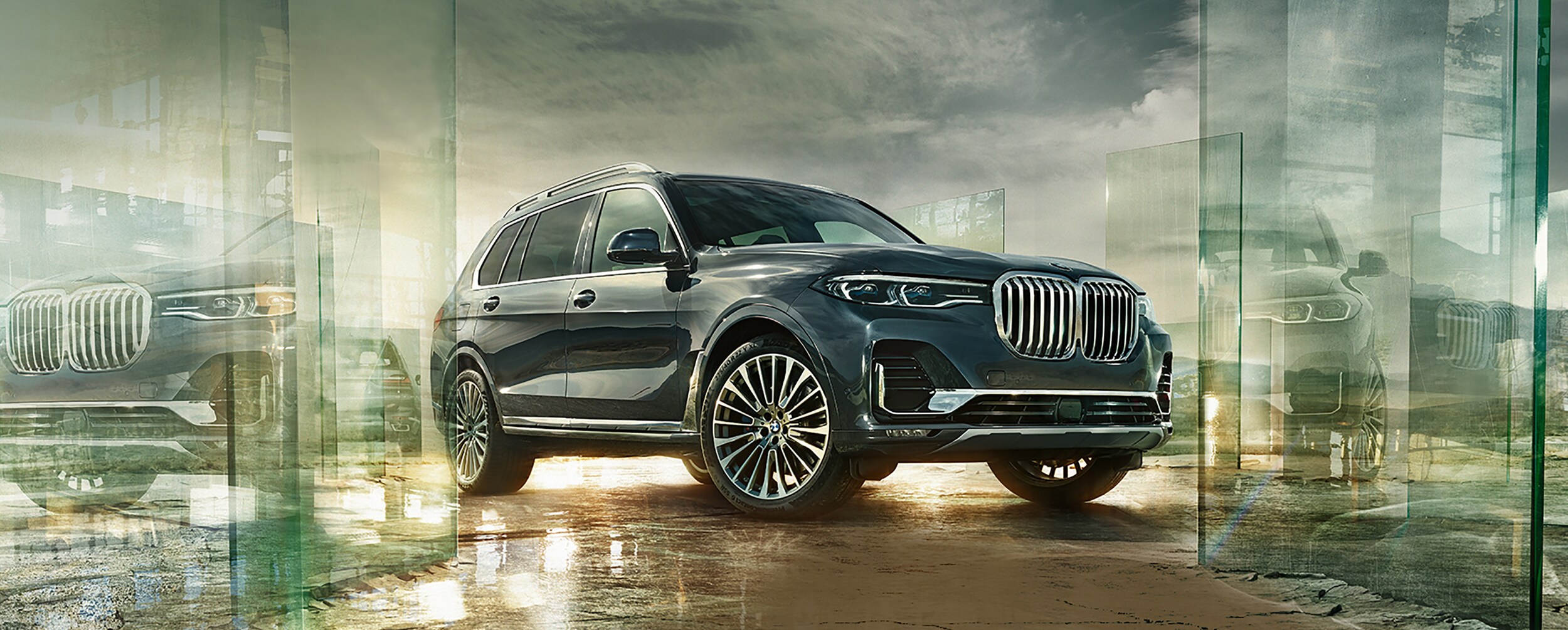 New BMW X7
For Sale in Tuscaloosa
An Inside Look at the BMW X7 in Tuscaloosa
One of the biggest BMW's ever built, the the X7 is as legendary as any BMW model that's ever left the factory.  A striking combination of power, comfort, and luxury, the new X7 is poised to redefine your driving experience on the roads in Tuscaloosa.  Offering drivers with world-class amenities and a lush interior cabin laden with the latest advanced infotainment features, this brand-new Sports Activity Vehicle® is one-of-a-kind.  Boasting seating for up to seven passengers, the new X7 SAV is impressively spacious and open with standard second-row bench seating for those long trips with your favorite friends and family.
New BMW X7 For Sale in Tuscaloosa
Exterior
BMW X7 Exterior
Highlighted by its sophisticated and elegant exterior design, the new BMW X7 has no trouble making its presence known near Northport, AL. Sporting an array of crisp body lines and aerodynamic panels, the BMW X7 is a standout luxury SAV that seeks to captivate drivers with its vibrant personality and diverse palate of available exterior colors. Choose between Ametrin Metallic, Mineral White Metallic, Vermont Bronze Metallic, and Phytonic Blue Metallic for an exterior color option that speaks to you the most and begin personalizing your BMW driving experience in a way that's unique to you and your lifestyle.
Interior
BMW X7 Interior
From the inside and out, the new BMW X7 is easily recognizable from its collection of elegant interior appointments. Centered around a revitalized cabin that's designed to evoke feelings of comfort and calm, the BMW X7 redefines excellence in a way that's hard not to love. Engineered to exceed your expectations with its standard Panoramic Glass Roof that illuminates and changes colors to reflect your mood, the X7 prioritizes your well-being every time you get behind the wheel by making every trip you take with the new X7 one you'll undoubtedly remember.
Standard Features
Standard & Available Features
When looking at the new BMW X7, you'll notice an aura surrounding its nameplate that helps showcase its invigorating and exciting array of unique possibilities. Standard equipped with a plethora of engaging new features, the BMW X7 near Fayette, AL continues to impress drivers with its robust capability and connected interior cabin. Integrated with a two-axle air suspension system that helps you maintain a comfortable drive even when the going gets tough, the new X7 seeks to make it easier to load and unload your precious goods inside of the vehicle with an adaptable suspension system that can lower with just the push of a button. Standard with heated front seats for those cold winter mornings on your way into the office, the X7 also features Ventilated and Massage options, as well as heated rear seats for your passengers, to make you feel comfortable every time you get behind the wheel.
Designed to further connect you with your vehicle, the BMW X7 comes standard equipped with BMW's Live Cockpit Professional. Featuring an integrated 12.3-inch Central Information Display touchscreen that displays everything from your navigation directions to your active infotainment settings, the Live Cockpit Professional seeks to make your life easier behind the wheel in Eutaw. Available with a hands-free voice recognition system, the BMW Intelligent Personal Assistant gets smarter and retains more information with the more questions that you ask it. For all your toughest inquiries and qualms, say the words "Hey, BMW..." and let the new X7 help answer your questions without ever taking your hands off the wheel.
For peace of mind when traveling with your family or your favorite precious cargo, the BMW X7's standard safety features are designed to protect you when you least expect it. Standard with a collection of innovative features, including Active Blind Spot Detection, City Collision Mitigation, Lane Departure Warning, and Frontal Collision Warning, the new X7 is engineered to help you maximize your safety whether you're driving through traffic in the city or adventuring off the roads less traveled. Available with BMW's Parking Assistance Package, the new X7 helps you navigate those tight parking spaces with a high-definition Surround View Camera with 3D imaging and a personalized Back-Up Assistant that makes maneuvering into a parking spot more exciting than ever before.
Leasing
Have You Considered Leasing a New BMW X7?
You may have had your eye on the BMW X7 for quite some time, but just cannot bring yourself to pull the plug on purchasing one. After all, it is a big financial commitment. However, you can lease a new BMW X7 and not be obligated to a major loan at the bank. In addition, you will not have to worry about the depreciation that takes place with a luxury SUV. The BMW X7 is an impressive vehicle that you will be proud to park in your garage. You will also find that there are many benefits associated with leasing as opposed to financing one.
Make More Room in Your Budget
Just about everyone has a budget. You have in mind a figure that you can spend on transportation. While financing a luxury SUV might be out of reach, you will be pleasantly surprised to find out that the monthly payments on a BMW X7 lease are lower than what you would pay when financing. You also will not have depreciation or repair expenses to worry about. The SUV will never be more than three years old, so it is always under warranty while you are driving it.
Enjoy New Features Every Few Years
Another feature of BMW leasing that BMW of Tuscaloosa would like to point out is the fact that you will get to enjoy the latest luxury SUV model every few years. This is a great way to reap the benefits of a new vehicle without ever having to worry about selling the one that you are currently driving. This is a major reason to consider a lease. If you enjoy the latest technology, it is a cost-effective way of making sure that you and your family will enjoy the best for years to come.
Contact our team to get started on your path to a BMW X7 lease. You will find that it is relatively simple. Just fill out an application, get approved, and then sign the paperwork. The entire process does not take very long at all, and we will be prepping your new luxury SUV while you are reviewing the contract.
We are proud to serve drivers in Eutaw, Fayette, AL; and Northport, AL.
Your BMW X7 Experience Awaits with Three Outstanding Trim Options
As a high-end, world-class BMW SAV, it comes as no surprise that the new BMW X7 models we have available in Tuscaloosa present drivers with a range of luxurious amenities and cutting-edge safety features. Whether you go for the entry-level model or the top-of-the-line option, we're sure you're going to love everything about this seven-passenger SUV.
BMW X7 xDrive40i
Powered by a turbocharged 3.0-liter inline six-cylinder engine the xDrive40i gives you standard all-wheel drive, 335 horsepower, and 330 pound-feet of torque. It also comes with a comprehensive roster of the most sought-after features and amenities in the industry.
For safety, you can look forward to a range of features standard, including:
Blind-spot monitoring
Forward collision warning
Automatic emergency braking
Lane departure warning
Parking sensors
Rear-cross traffic alert system
When it comes to creature comforts, this SUV gets standard highlights that include:
Heated front seats
Simulated leather upholstery
A panoramic sunroof
Four-zone auto climate control
Power-operated liftgate
Finally, in terms of tech, the BMW X7 includes standard:
Navigation
Apple CarPlay and Android Auto smartphone integration
Touchscreen interface
Wireless device charging
Remote vehicle monitoring you can control on your smartphone
BMW X7 xDrive50i
Stepping up to the X7 trim option will get you more power and a few additional amenities. This model has a turbocharged 4.4-liter V8 engine under its hood, with standard all-wheel drive, 456 horsepower, and 479 pound-feet of torque. When it comes to building on the features list, you can expect standard amenities that include:
An upgraded, premium brand sound system
Leather upholstery
Soft-close doors
Surround-view camera system
Upgraded front seats with multiple comfortable contours
BMW X7 M50i
The top-tier X7 model, this SUV has the same V8 engine as the previous trim, except here it's tweaked for more power, with 523 horsepower and 553 pound-feet of torque. It also comes with additional performance-tuned amenities and a unique appearance.
Dark exterior trim details
Adaptive sport suspension system
Sport brakes
Sport exhaust
Drive the Stunning New BMW X7 SUV at BMW of Tuscaloosa
To learn more about the new BMW X7 and to schedule a test drive today, please call, click, or visit us in person at our BMW of Tuscaloosa dealership to explore our new and used inventories!  We look forward to meeting you and helping you find an X7 model that's right for you!